1S12/1E20 "The Silver Jubilee"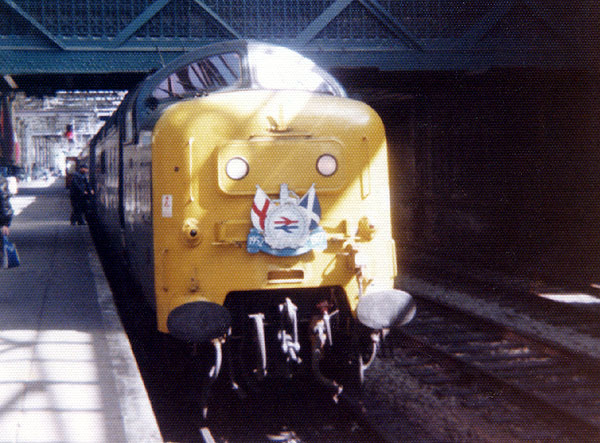 Photo: Paul Bettany.
In honour of HRH Queen Elizabeth II's 25 reign as British monarch the UK celebrated her silver jubilee in many ways during 1977. British Rail dedicated the 1S12 07:45 King's Cross - Edinburgh and 1E20 15:00 return services as "The Silver Jubilee" and included a buffet car decked with 1952-1977 memorabilia. Place settings, napkins, destination boards, etc all held "The Silver Jubilee" motif and the train loco also carried a special headboard. The inaugural service departed from King's Cross on the 8th June 1977 hauled by 55012 "CREPELLO" the return 1E20 15:00 working saw Haymarket based 55022 "ROYAL SCOTS GREY" in charge.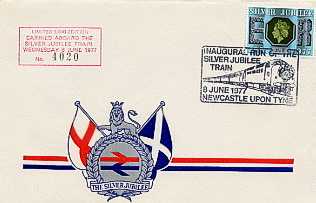 Image: Paul Bettany.
Above: a first day cover was also produced and given to passengers aboard the inaugural run - 4020 is seen out of a run of 5000. Below: a representation of the coach window destination label.
The 1S12 and 1E20 remained a 'titled' service until December 30th, however, as 1978 dawned the service often produced an HST set prior to a more comprehensive service in May of that year - the 1S12 actually becoming a booked HST diagram from the 20th March. Deltics did still deputize for the odd 'Zing' and it's interesting to note that the very last appearance was on the 1st May 1978, when 55012 fittingly turned out to handle the bank holiday service - a HST would not have been long enough to cope with demand!
The following tables show know Deltic workings, the gaps in information could well have been services handled by class 47's and others. Here's one theory from Paul Gildersleve why Deltics did not always produce:
"...Looking at the 'up' overnight trains to King's Cross; 1A40 from Newcastle was in the Cross around 02:00 if this had a Deltic then 1S12 could be in business. 1A41 rarely had a Deltic at this time but if it did then OK again. 1A45 was next - this had sleepers attached and therefore this train would spend more time in the station, also it wasn't a regular Deltic working at this time and I think unlikely that Gateshead would want to get rid of too many Deltics when they had a few trains (1A07, 1A11 etc) to send out in the morning. 1E35 was the train. If this was a Deltic then 1S12 should (exams permitting) produce a Deltic. 1E39, whilst not conveying sleepers used to arrive in either platform 1 or 2 I believe. By the time the loco was released it would be getting close to 07:00. It would then have to shunt into the tunnel, back into a platform, back into the tunnel, then into the neck and then onto the fueller. This would have to be done amongst the arrival of stock for the departures, the removal of other stock from overnights and all the loco movements that would also be necessary. Not to mention the first commuter arrivals. To sum up, you needed a Deltic to have arrived on or by 1E35 at the latest for 1S12 to produce. 1E20 was obviously different. This train would only work if Haymarket had something off exams or repairs or the loco off 1S12 as everything else would have been sent south by 15:00."
If anyone can supply information regarding those engines (other than class 55's) that worked this service, and their respective dates, I would be very grateful. Similarly if you can provide photographs of Deltics working "The Silver Jubilee" or information on whether headboards were carried (and again on which date) all would be much appreciated...


June
Date
Diagram
Loco
Headboard
Notes
8 -
1S12
55012
Carried
Specially prepared by Finsbury Park TMD. P.Ref
1E20
55022
Carried
PIC P.Ref
9 -
1S12
55007
Carried
First appearance. P.Ref
1E20
55007
10 -
1S12
55007
1E20
55007
11 -
1S12
55021
-

Saturday departure was 07:55 and the dedicated "The Silver Jubilee"
stock was not used - the service was also untitled.

1E20
55021
-

No Saturday Service (additional).

Between 02/07 & 03/09 there was a 1E21 15:00 Edinburgh - Newcastle
only service. Therefore, the Sat 1E20 Edin - KX may have been an
extension and run only when required.

s12 -
No Sunday Service
-
No Sunday Service
-
13 -
1S12
55021
First "The Silver Jubilee" appearance.
1E20
55008
First appearance.
14 -
1S12
55015
First appearance.
1E20
55015
15 -
1S12
55009
First appearance.
1E20
55009
16 -
1S12
55007
1E20
55007
17 -
1S12
55007
1E20
55007
18 -
1S12
55007
-
No Saturday Service
-
s19 -
No Sunday Service
-
No Sunday Service
-
20 -
1S12
55019
First appearance.
1E20
55019
21 -
1S12
1E20
22 -
1S12
55021
Carried
P.Ref
1E20
55021
23 -
1S12
55002
First appearance.
1E20
55002
24 -
1S12
55010
Carried
First appearance. PIC
1E20
55010
25 -
1S12
55009
-
No Saturday Service
-
s26 -
No Sunday Service
-
No Sunday Service
-
27 -
1S12
55014
First appearance.
1E20
55014
28 -
1S12
55002
1E20
55002
29 -
1S12
55006
Carried
First appearance. PIC
Released from Doncaster Works following Intermediate overhaul 28/06.
1E20
55006
30 -
1S12
55018
47550
Carried
First appearance.
To Newcastle (engine failure north of York. Assist to Newcastle by 40074,
47550 forward. 55018 to GD behind 40074 still retaining headboard).
Last service prior to 55018's Intermediate repair. 55018's only appearance.
1E20
July
Date
Diagram
Loco
Headboard
Notes
1 -
1S12
55002
1E20
55002
2 -
1S12
-
No Saturday Service
-
s3 -
No Sunday Service
-
No Sunday Service
-
4 -
1S12
55015
1E20
5 -
1S12
1E20
47501
Photo here.
6 -
1S12
55017
Carried
First appearance.
1E20
55017
7 -
1S12
55015
Carried
P.Ref
1E20
55015
8 -
1S12
55009
1E20
55009
9 -
1S12
55010
-
1E20
55010
-
No Saturday Service (additional).
s10 -
No Sunday Service
-
No Sunday Service
-
11 -
1S12
55014
1E20
55014
12 -
1S12
55010
1E20
55010
13 -
1S12
55006
1E20
55006
14 -
1S12
55019
Carried
1E20
55019
Carried
PIC
15 -
1S12
55008
1E20
55022
Carried
P.Ref
16 -
1S12
55009
-
No Saturday Service
-
s17 -
No Sunday Service
-
No Sunday Service
-
18 -
1S12
55017
1E20
55017
19 -
1S12
55003
First appearance.
1E20
55004
Carried
First appearance. PIC P.Ref
20 -
1S12
55009
1E20
55009
Carried
Also conveyed up "The Aberdonian" passengers.
21 -
1S12
55021
1E20
55021
22 -
1S12
55017
1E20
55017
23 -
1S12
47430
-
No Saturday Service
-
s24 -
No Sunday Service
-
No Sunday Service
-
25 -
1S12
55022
1E20
55022
26 -
1S12
55014
Carried
1E20
55014
27 -
1S12
55006
1E20
28 -
1S12
55001
First appearance.
1E20
55001
29 -
1S12
55012
Carried
1E20
55012
Not carried
P.Ref
30 -
1S12
55013
-
No Saturday Service
-
s31 -
No Sunday Service
-
No Sunday Service
-
August
Date
Diagram
Loco
Headboard
Notes
1 -
1S12
55002
1E20
55002
2 -
1S12
55006
1E20
55021
To Newcastle (engine failure).
3 -
1S12
55010
To Newcastle (engine failure).
1E20
55013
First "Silver Jubilee" appearance. P.Ref
4 -
1S12
55014
Carried
1E20
55014
Carried
PIC
5 -
1S12
55002
Carried
1E20
55002
Carried
PIC
6 -
1S12
55013
-
P.Ref
No Saturday Service
-
s7 -
No Sunday Service
-
No Sunday Service
-
8 -
1S12
55014
Carried
1E20
55014
Carried
9 -
1S12
55019
1E20
47518
10 -
1S12
55016
First appearance.
1E20
55016
11 -
1S12
55002
Carried
1E20
55002
Carried
12 -
1S12
55002
1E20
55002
13 -
1S12
-
No Saturday Service
-
s14 -
No Sunday Service
-
No Sunday Service
-
15 -
1S12
55013
1E20
55013
16 -
1S12
55001
Carried
P.Ref
1E20
55001
Carried
PIC
17 -
1S12
55015
Carried
P.Ref
1E20
55015
18 -
1S12
55019
1E20
47418
19 -
1S12
55002
1E20
55002
20 -
1S12
55016
-
No Saturday Service
-
s21 -
No Sunday Service
-
No Sunday Service
-
22 -
1S12
55008
1E20
55008
23 -
1S12
55007
Carried
1E20
55007
Carried
24 -
1S12
55009
Carried
1E20
55009
Carried
25 -
1S12
55014
1E20
55014
26 -
1S12
55007
1E20
55007
27 -
1S12
55004
-
No Saturday Service
-
s28 -
No Sunday Service
-
No Sunday Service
-
29 -
1S12
55013
Carried
PIC
1E20
47541
30 -
1S12
55013
Carried
P.Ref
1E20
55013
31 -
1S12
55015
1E20
55015
September
Date
Diagram
Loco
Headboard
Notes
1 -
1S12
55007
Carried
P.Ref
1E20
55007
2 -
1S12
55019
Carried
1E20
55019
3 -
1S12
55003
-
No Saturday Service
-
s4 -
No Sunday Service
-
No Sunday Service
-
5 -
1S12
55012
1E20
55012
6 -
1S12
55013
1E20
7 -
1S12
55013
1E20
55013
Carried
PIC P.Ref
8 -
1S12
55017
1E20
9 -
1S12
55013
1E20
55013
10 -
1S12
55019
-
No Saturday Service
-
s11 -
No Sunday Service
-
No Sunday Service
-
12 -
1S12
55015
Carried
P.Ref
1E20
55015
Carried
PIC
13 -
1S12
55004
1E20
55004
14 -
1S12
55019
Carried
P.Ref
1E20
55019
15 -
1S12
55017
1E20
55017
16 -
1S12
55020
Carried
PIC First appearance.
1E20
55020
Carried
PIC
17 -
1S12
-
No Saturday Service
-
s18 -
No Sunday Service
-
No Sunday Service
-
19 -
1S12
55013
Carried
P.Ref
1E20
55013
20 -
1S12
1E20
21 -
1S12
55017
1E20
55017
22 -
1S12
55019
1E20
55019
23 -
1S12
55007
Carried
P.Ref
1E20
55007
24 -
1S12
55014
-
PIC
On this day "The Silver Jubilee" stock and headboard were used on the
1F55 07:45 King's Cross - Edinburgh & 1F55 16:45 return "The Deltic
Pictorial" railtour hauled by 55012.
No Saturday Service
-
s25 -
No Sunday Service
-
No Sunday Service
-
26 -
1S12
55014
1E20
55014
27 -
1S12
55001
1E20
55001
28 -
1S12
55015
1E20
47408
29 -
1S12
55007
Carried
1E20
55007
Carried
30 -
1S12
55019
Carried
1E20
55019
Carried
October
Date
Diagram
Loco
Headboard
Notes
1 -
1S12
55004
-
Final Saturday diagram.
No Saturday Service
-
s2 -
No Sunday Service
-
No Sunday Service
-
3 -
1S12
55020
To York (engine failure).
1E20
4 -
1S12
1E20
5 -
1S12
1E20
6 -
1S12
55001
1E20
55001
7 -
1S12
1E20
8 -
No Saturday Service
-
No Saturday Service
-
s9 -
No Sunday Service
-
No Sunday Service
-
10 -
1S12
1E20
47542
11 -
1S12
1E20
12 -
1S12
1E20
13 -
1S12
1E20
47461
14 -
1S12
-
Industrial action.
1E20
-
Industrial action.
15 -
No Saturday Service
-
Industrial action.
No Saturday Service
-
Industrial action.
s16 -
No Sunday Service
-
Industrial action.
No Sunday Service
-
Industrial action.
17 -
1S12
47518
-
Industrial action. 47518 failed at Grantham and 31268 worked forward!
1E20
-
Industrial action.
18 -
1S12
47411
-
Industrial action.
1E20
-
Industrial action.
19 -
1S12
47542
-
Industrial action.
1E20
-
Industrial action.
20 -
1S12
-
Industrial action.
1E20
-
Industrial action.
21 -
1S12
47407
-
Industrial action.
1E20
-
Industrial action.
22 -
No Saturday Service
-
Industrial action.
No Saturday Service
-
Industrial action.
s23 -
No Sunday Service
-
No Sunday Service
-
24 -
1S12
1E20
55010
25 -
1S12
55008
To Newcastle (engine failure).
1E20
55019
26 -
1S12
1E20
27 -
1S12
55012
1E20
55012
28 -
1S12
55010
1E20
29 -
No Saturday Service
-
No Saturday Service
-
s30 -
No Sunday Service
-
No Sunday Service
-
31 -
1S12
55022
1E20
47417
November
Date
Diagram
Loco
Headboard
Notes
1 -
1S12
55003
1E20
55003
2 -
1S12
55004
1E20
55004
3 -
1S12
55008
1E20
55008
4 -
1S12
55011
First appearance.
1E20
55011
5 -
No Saturday Service
-
No Saturday Service
-
s6 -
No Sunday Service
-
No Sunday Service
-
7 -
1S12
55001
1E20
55001
8 -
1S12
55006
1E20
9 -
1S12
55006
1E20
55006
10 -
1S12
55015
1E20
55015
11 -
1S12
47544
1E20
12 -
No Saturday Service
-
No Saturday Service
-
s13 -
No Sunday Service
-
No Sunday Service
-
14 -
1S12
55007
1E20
55007
15 -
1S12
55003
1E20
55003
16 -
1S12
55014
1E20
55014
17 -
1S12
55014
1E20
18 -
1S12
55001
1E20
19 -
No Saturday Service
-
No Saturday Service
-
s20 -
No Sunday Service
-
No Sunday Service
-
21 -
1S12
55009
1E20
47471
22 -
1S12
47403
1E20
23 -
1S12
1E20
24 -
1S12
1E20
25 -
1S12
55021
1E20
55021
26 -
No Saturday Service
-
No Saturday Service
-
s27 -
No Sunday Service
-
No Sunday Service
-
28 -
1S12
55019
1E20
55019
To Newcastle (engine failure at Grantshouse – assisted by 40086).
29 -
1S12
55004
1E20
30 -
1S12
55016
1E20
55022
December
Date
Diagram
Loco
Headboard
Notes
1 -
1S12
55019
1E20
55019
2 -
1S12
1E20
3 -
No Saturday Service
-
No Saturday Service
-
s4 -
No Sunday Service
-
No Sunday Service
-
5 -
1S12
55014
1E20
55014
Not Carried
PIC
6 -
1S12
1E20
7 -
1S12
55011
1E20
55011
8 -
1S12
55011
1E20
55011
9 -
1S12
55016
1E20
55016
To York (engine failure).
10 -
No Saturday Service
-
No Saturday Service
-
s11 -
No Sunday Service
-
No Sunday Service
-
12 -
1S12
55003
1E20
55003
13 -
1S12
47528
1E20
14 -
1S12
1E20
15 -
1S12
55006
1E20
55006
16 -
1S12
1E20
47422
17 -
No Saturday Service
-
No Saturday Service
-
s18 -
No Sunday Service
-
No Sunday Service
-
19 -
1S12
55005
Only appearance and last Deltic to be rostered for diagram.
1E20
55005
20 -
1S12
55007
To Newcastle (engine failure).
1E20
55016
21 -
1S12
55003
1E20
55003
22 -
1S12
1E20
23 -
1S12
55019
1E20
55019
24 -
No Saturday Service
-
No Saturday Service
-
s25 -
Christmas Day
-
Christmas Day
-
26 -
1S12
1E20
27 -
1S12
1E20
28 -
1S12
55003
1E20
55003
29 -
1S12
55022
1E20
30 -
1S12
47547
Carried
Specially prepared for the final loco hauled turn.
1E20
TITLED TRAINS.....HOME